Daniele Cordova
He is an electronic engineer. He worked, early in his career, as a designer engineer and manufacturer of television transmitters and civilian radio transmitters. He then devoted himself to the sale of television broadcasting equipment, serving for more than 20 years first as local area manager and then as area manager for southern Italy for the U.S. multinational group Bell+Howell, which in later years became the Japan Victor Company (JVC) Professional Equipment Division, and then became sales manager of network dealers for the TELAV International, one of the most important Italian broadcasting companies. In the early 1990s he became the exclusive distributor for Italy of the Pinnacle Sys brand. A company repeatedly awarded for its innovative Broadcast products. At the same time, due to some events that saw him positively involved in the financial sector, he developed a joint interest in this market, so much so that within a few years he took on the role of Area Manager for Italy of FPM (Financial Project Management ) a British company specializing in the management of financial assets and for which he developed an important work in the Italian Electronics sector, so much so that he took on the role of CEO in the early 2000s. He currently holds the same role for Blue Pool Advisors Ltd, a technical-financial consulting firm, bringing it, in less than four years, to boast a presence, through its consultants, in more than thirty-two countries around the world.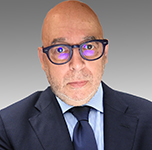 Daniele Cordova
CEO
Head of the Advisors Network
d.cordova@bluepooladvisors.com
+39.333.8532070

Contact Us
Address
Pitt House, 120 Baker Street - W1U 6TU London (UK)
Your message has been sent. Thank you!