Della Adjaku
With over 20 years' experience in the private sector as an entrepreneur and consultant for many investors who have established businesses in Ghana, Mr. Della Adjaku has distinguished himself as a rare business executive who has the ability to see ahead by studying current business trends to identify which sectors of the economy are worth investing in for both the short and long term. Mr. Della Adjaku's extensive knowledge and experience as technical expert has led him to establishing strategic businesses such as Dellsos Limited, Delafon Limited, Golden Conglomerate Limited, J-las Limited, DS Oil Limited; he is the brain behind the formation of Bola Solutions Ghana Limited; created with the principal objective of effectively managing all kinds of waste in Ghana.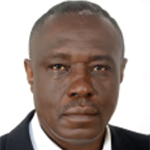 Della Adjaku/h4>
Area Manager Western & Central Africa

d.adjaku@bluepooladvisors.com
P +233 20 621 0204

Contact Us
Address
Pitt House, 120 Baker Street - W1U 6TU London (UK)
Your message has been sent. Thank you!