GRACIAN DANIELE
Gracian Daniele, Argentine class of 74, studied Law in the 90s, and immediately approached cooking. In 1994 he became chef of a renowned South American restaurant, Coyote Tex Mex Food. He continues his culinary journey in his hometown and in 1998 travels to Spain. Years of strong contamination, working alongside great international chefs. In 2003 he moved to Italy. At the head of the kitchen of the La Veranda restaurant in Borgo Pio, he became part of the Roman reality, becoming the chef of restaurants such as TAD in via del Babuino and many others. He trained as a Sommelier, Restaurant manager, Food and Beverage Manager, and follows many refresher courses that lead him to follow many start-ups in local catering. He opens an amateur cooking school. He collaborates with many hotels and caterers. Since 2015 he has been teaching professional cooking at the Italian Chef Academy, alongside great professionals. Since 2020 he has mainly dedicated himself to gastronomic consultancy in the HO.RE.CA world and in the G.D.O., founding Metodo Food: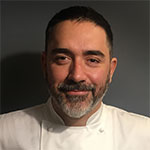 Vice President HORECA dept.
+39.327.4041360
info@graciandaniele.com g.daniele@bluepooladvisors.com
Contact Us
Address
Pitt House, 120 Baker Street - W1U 6TU London (UK)
Your message has been sent. Thank you!