GUY DECLERCK
He began his career at Langlois & co in Antwerp. After his military service, he goes to London to perfect the insurance trade technique within the famous international insurance brokerage firm Willlis. At the Lloyd's he later served as an assistant underwriter. Three years later, he became director of Langlois Brocklehurst in Paris. In the following years he travels throughout Europe and Africa to perfect himself in Risk Analysis and Assessment. Upon his return, he takes on the role of PR on behalf of Herbert, Biller & Smith of California. He subsequently served as Head of Risk Analysis for the growing Heyblom E in Antwerp. In the following years, he took on the role of Commercial Director for Reed Stenhouse. He currently runs his own company in the Risk Management sector which in a few years has achieved a turnover of several million euros. He is responsible, on behalf of Blue Pool Advisors Ltd, of the BENELUX Area.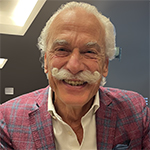 Guy Declerck
Area Manager Benelux

g.declerck@bluepooladvisors.com
+32.3.6581335
Contact Us
Address
Pitt House, 120 Baker Street - W1U 6TU London (UK)
Your message has been sent. Thank you!