Leonardo Mauretti
He is graduated in political science and has maturated a significative experience as Assets Manager of the former Liberal Party. From 2003 up to 2007 he covered the role of Responsible for the Relationships with Banks for FPM Group. From 2007 to 2017 He was in charge as Financial Director of Servizi Emittenti.He also has served as critic for some years, at the newspaper "La repubblica" as an ironic commentator on the events of Formual 1. He is an expert in international politics and is involved in important financial transactions with some Eastern European countries. Mr. Mauretti is now in charge as Chief Financial Officer at BPA.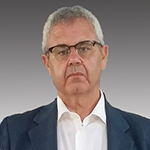 Leonardo Mauretti
CFO

l.Mauretti@bluepooladvisors.com
+39.351.5221160

Contact Us
Address
Pitt House, 120 Baker Street - W1U 6TU London (UK)
Your message has been sent. Thank you!