MASSIMO MONTEFORTE
Graduated at Istituto Superiore del Design in 1987, he has served mainly as Creative Director for the most Fashion Brand name in Italy and Abroad. Massimo has also served as teacher of Fashion Stylism at Calro Bo Urbino's University. Here a short list of the most well knowns Fashion Brand names he has worked with: Pantone Universe ‐ New York (Usa), Ballantyne ‐ Milano, Turtlle Ltd. ‐ Kolkata (India), Lucso ‐ Capri, Annapurna Spa ‐ Prato, Malo Spa ‐ Prato, Giorgio Armani ‐ Vestimenta S.p.a. ‐ Matterello di Trento, Jil Sander ‐ Hamburg (Germany), Lottusse ‐ Palma de Majorca, Gianfranco Ferrè, Loro Piana, Gianni Versace, Sorelle Fontana ‐ Roma.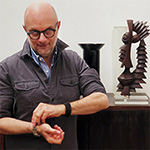 Massimo Monteforte
V.P. Fashion Market
m.monteforte@bluepooladvisors.com
+39 380 251 4400
Contact Us
Address
Pitt House, 120 Baker Street - W1U 6TU London (UK)
Your message has been sent. Thank you!