GIUSEPPE PIEMONTESE
After studying mechanical engineering next the Polytechnic of Bari in 1994 he began his first job as technical manager in STIR Spa, an important Italian company operating in the sector of plastic materials producers. During the 23 years of work in that company as plant manager, he acts as Project Manager for the design and construction of the entire new production plant, as well as the person in charge of the development and certification of the ISO 9000 System Quality, also acting in as group manager for the implementation of the Federchimica Responsible Care program. In 2015 he created a new company in Bulgaria with which he designed and built one of the first PVC compound production plants in the country and of which he was in charge as plant and purchases manager for five years long. Thanks to his thirty years of experience, from 2020 he has in charge as Managing Director of a technical and commercial consultancy company for the plastics sector for all Eastern European countries.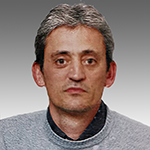 Giuseppe Piemontese
Area Manager Bulgaria

g.piemontese@bluepooladvisors.com

+359 88 856 2965
Contact Us
Address
Pitt House, 120 Baker Street - W1U 6TU London (UK)
Your message has been sent. Thank you!