Nino Zukhbaia
Currently Nino is working as a private lawyer. Since 2006 – Up to now Member of the LEPL Georgian Bar Association. She has a general specialization (civil, criminal and administrative law). Additionally she is specialized in: Juvenile justice, Juvenile rights (civil). She Holds a Master degree in law, from the Tbilisi State Institute of Business. Since 2022- mediator at Kutaisi City Court. In 2019, she has passed a certification course in mediation (40-hour) supported by the Georgian Bar Association (GBA), Tbilisi State University (TSU), the National Center for Alternative Dispute Resolution (NCADR) and Tbilisi Open University (TOU); In 2019, she has also passed certification course in mediation (56-hour) supported by the European Union and the United Nations Development Program (UNDP). In 2020, she has passed certification course (two-month) - "Conflict Management - South Caucasus Case Study" supported by the Center for Peace and Civic Development (CPCD), the international organization "HEKS EPPER" and the Georgian Institute of Public Affairs (GIPA). The categories of mediation cases are: family, labor, inheritance, property and other disputes. As for professional experience: Since 2006 – Up to now – working as a private attorney. During 20082010 Nino was working as an invited specialist in the Georgian Parliament's Representation in West Georgia (PARWG); During 2006-2007 She was working in the World Vision International (WVI) Representation in Georgia (Kutaisi Branch) as a Head of Education Service.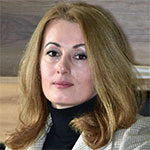 Nino Zukhbaia
Senior Advisors Georgia

n.zukhbaia@bluepooladvisors.com
No.2, 5 alley ,rustaveli st. Kutaisi/GEORGIA
+995 557 33 08 82
Contact Us
Address
Pitt House, 120 Baker Street - W1U 6TU London (UK)
Your message has been sent. Thank you!